Services
We service West Tennessee, Northern Mississippi, Southwest Kentucky, and Eastern Arkansas.  In addition to cremation services, we also offer a full line of urns, pet caskets, jewelry, keepsakes, and many other items to help you memorialize your fur friend.  We offer our services through all veterinary offices in our region.  To request us, simply ask your veterinarian or veterinary office manager.

Deluxe Individual Cremations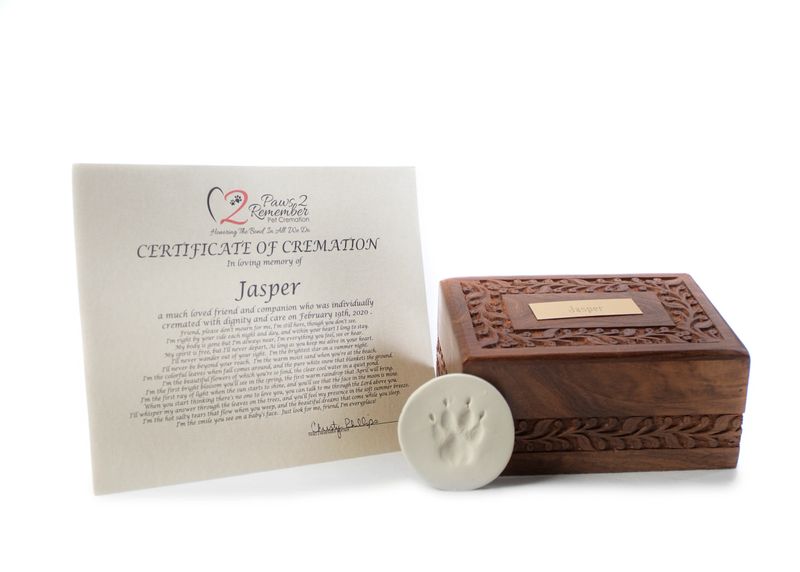 Deluxe Individual Cremations come with everything in a Individual Cremation, plus a composite paw print impression. This includes pick-up and return to your home (during normal business hours), veterinarian or other preference.  You may also substitute one of our other urns for an additional charge.  Urns can be viewed here.
Communal Cremations
Your pet will be cremated with other pets, and their ashes will be spread on our home property in Carroll County, Tennessee.  Composite Paw Print Impressions can also be made for Communal Cremations.  Communal cremations start at $50.

In-Home and After-Hours Pick Up
We are available 24 / 7 / 365 to come to your home, to include holidays and after hours, to assist you in your time of need.
During normal business hours of 8-5 no additional pick up fees will apply. After 5 pm a $60.00 after hours fee applies.   Holidays a $100.00 fee applies.